Jack, Chris and I showed up early this morning for the show and got our parking places on main street where the show was being held.
Got them all shined up and prepped. with us parked side by side it was a site in between some of the oldie but goodies that were there. There were a total of 6 09 Challengers. 2 of them sere SE's. Mine and another fellas who just moved in the area from Alaska. voting for the best in each year catagory and best paint etc...was done by the folks who had cars entered in the show, so that meant that we were the judges of everything that was there. I believe that there was probably about 80-100 cars,trucks, bikes combined at the show. I was divided into years like pre1929, 1930-39,1940-49,1950-59 and so forth. We were all in the 1990-09 division. There was also a Viper, Vette, 2009 Dodge Charger Superbee, and a 200 Mustang (who won best paint)(sorry didnt get a pic because he left a little early before awards)
Winner of the 1990-2009 Division?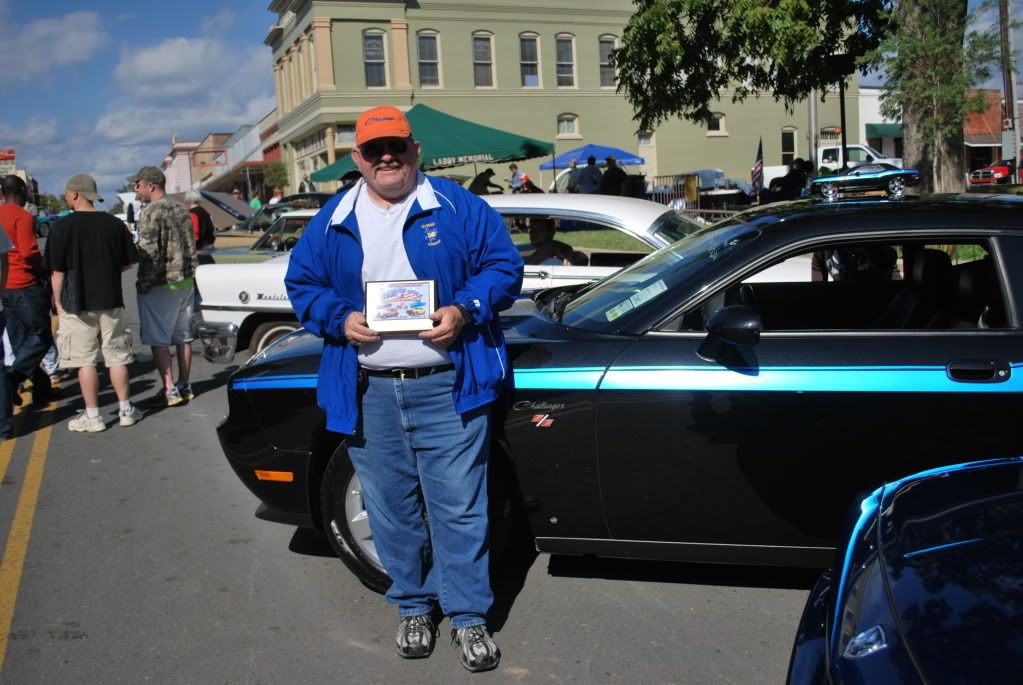 I really was suprised that my number got called. The other performance cars that were there were pretty nice by themselves. There were a number of folks who stopped by our cars and really liked what they saw in ours, not just mine, but all of ours.
One thing to tell you is that there were NO 2010 Camaros and NO 2005-2010 Mustangs in the show.
There are at least a half a dozen new camaros in town and no tellin how many Mustangs roam the area.
I do appreciate Jack and Chris for coming over for this show in my part of the woods. It was really interesting to see some of the cars that were there and that 70 cuda with the 426 Hemi shaker Hood... well let me just say that I am still drooling. :bigbowing: :bigaplus: :bigitsabeautifulthi
I have started a Album for the cars in the show today and I know Jack took pictures too.
And Rich....Jack said it was the Engine cover that won it for me.....
just hope Jack doesn't kick me out of the club now... :shrug: