JANUARY 10, 2010:
Well some of you know that I made my new PB last weekend (Jan 10th)
Here are my 3 best runs of the day-I'm #1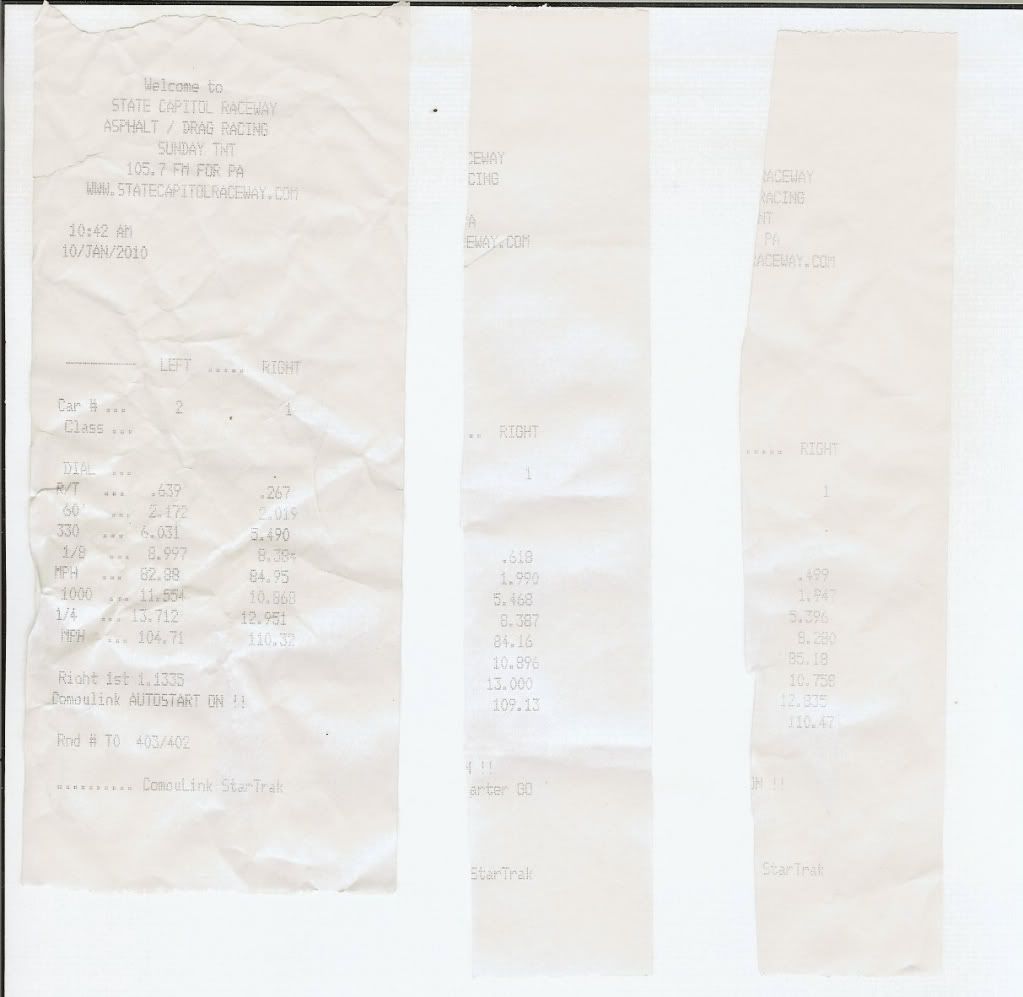 1st slip was my first run against a Ford Lightning. Before the race he really doubted that I could see 12s with just adding the new tires...We'll I showed him! :rockout:
2nd slip was my forth run against NorcoR/T (really cool guy from another forum) He has new gears, DR's, predator, and that is all I know of (forgot to ask) That race was pretty close and was one of my favorite races! :thumbupleft:
3rd slip was my third run against a Black on Black Corvette Z06. The run before I just ran a 13.6 (Red lighted, and let off when I noticed, which killed my time) So I went straight back with a hot engine to hopefully redeem myself! Pulled back into the lanes and the vette was the only thing I could pull up against...So I did, and knew I was about to get my butt handed to me!...We'll my launch was good, so I got him off the line. Somehow kept pulling him! I guess half way down the track, he realized he was getting beat by a Challenger so he let off, because he was easily a couple car lengths back and ran high 13s.
My last race of the day was against a 700HP GT500..he ran 11.5s....I got killed lol
I will hopefully have some video up of these runs, once I can recover the files! The DVD-RW was reformatted :doh:
January 17,2010:
I went back hoping to see some good times again, but the track was just not cooperating for anyone! Prep wasn't great, track was wet, and temps were 20 degrees higher than last weeks. So I wasn't expecting to much.
Ran 4 times and 3 out of the 4 runs were 13.2s...the other was a 13.3
One race was against a 2010 Camaro which had headers, exhaust, intake, cam, light rims (front and back), drag radials, and only god knows what else. Well he couldn't run faster than 12.2 all day due to the track conditions..He said he can usually run high 11s, so that goes to show how it wasn't such a great day for racing.
Other race was against a Mustang GT, which I didn't notice his supercharger until I heard the whine while doing our burnouts...lol He ran an 11.83! But he said it can run 11.5s, so there is another example of the sucky day. hah This race I ran my best of the day, a 13.21 @ 108..
After the race, he pulled back up to me (nice guy), and talked to me a bit about the car. And was very impressed that I was running so well for only having an exhaust and drag radials..which happened quite a lot that day. Most people just would not accept that was all I had done. lol After I would tell them, they would ask "So you are sure you don't have a tune?" "You don't have headers?" "No intake?"..Which I would tell them "No, just an exhaust and drag radials. Nothing more!"
So it seems as if people are really surprised on what these cars can do, I'm guessing the magazines really do make people think this car is super slow.
Oh and one more thing you guys might like to hear..There was a burnt orange 2010 Camaro running 13.8s! :thumbupright: So its nice to know I can run with the Camaros (if stock lol) Also, there was a 350Z with an intake running 14s all day long! So it seems as if the Challenger is doing quite well against the competition!